Valley House Brewing Co. is a craft brewery and tap room (21+) located in Duvall Washington. We serve a variety of fresh beer, cider, food, and local wines.
Open everyday from 3pm - 10pm
NOW POURING:
Hey Johnny! IPA
Brewed with 100% Skagit Valley Malt, Chinook, Citra, and Azacca hops.
6.3% ABV | 60 IBU
Great Scot IPA
Brewed with 100% Skagit Valley Malt, Wheat, and Oats. Extensive use of Citra hops gives it a grapefruit forward flavor and aroma.
8.2% ABV | 67 IBU
Trumpeter Swan Saison
A saison style with notes of orange peel and black pepper.
5.0% ABV | 34 IBU
Twee
A light kettle sour with apricots. Brewed with our friends at Triplehorn.
3.8% ABV | 11 IBU
Guest Taps
Additionally, we have chosen some of our favorite local beers to serve as rotating "House Guests". Each Guest is hand-picked. We only serve beer we love and strive to provide a variety of styles for every taste.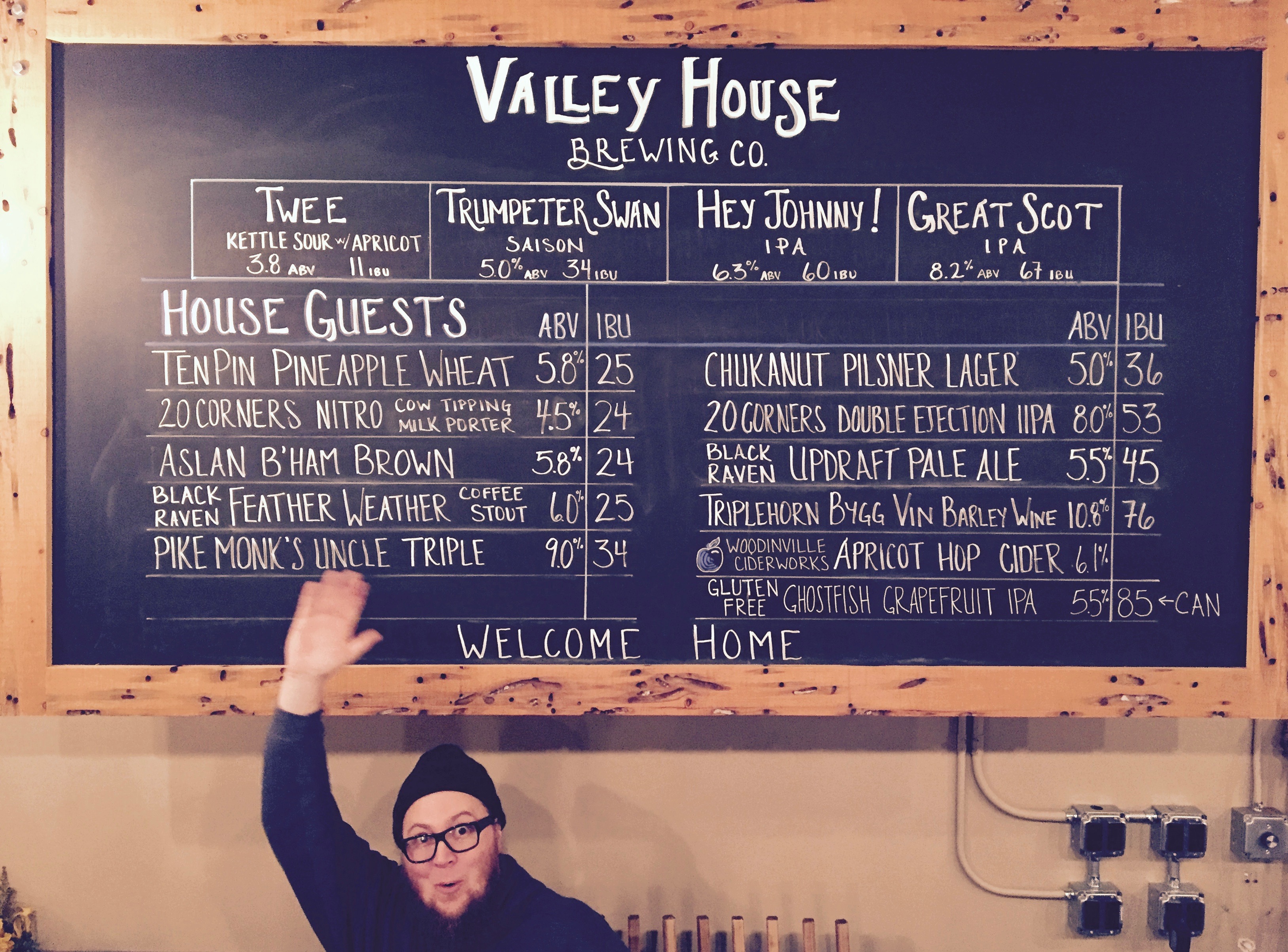 ---
We serve a variety of fresh dishes and rotating specials sourced from local, quality ingredients. Our aim is to create dishes that pair well with beer and taste delicious.
CURRENT HOUSE SPECIALS:
Cremini Mushrooms in a Soy Reduction w/ Goat Cheese and Fresh Toasts
Pork and White Bean Chili in a Bread Bowl
Local Cherry Valley Dairy Grey Salt Butter w/ Fresh Bread from Proven Bakery
VIEW MENU
---
WE ARE LOCATED ON MAIN STREET IN DUVALL WA.
16111 MAIN ST NE
DUVALL, WA 98019
VIEW MAP
We have onsite parking and you may also park along main street.
---
Sign up for our email list and we will send you updates about new beer releases and special evnts.